Beautifully Engraved.
Mentally Empowering.
BRACELETS FOR ANXIETY & OCD
Close
Anxious and lost?

We're glad you found us!

We've been there. We know exactly what it's like to feel alone (and lost) under the weight of anxiety. In fact, that's exactly why we started Presently.

Our mindfulness bracelets can help you discover a new way to truly manage your anxiety. We know it sounds daunting. That's why we start with the basics:

Anxiety is a natural human response that helps us respond to threats and stay on track. However, excessive worry can derail our lives and hinder our progress.

Are you overly self-conscious about what you might say or do in any social situation?
Have you been through a traumatic experience and now avoid anything that may bring back trauma?
Do you ever feel upset by your own thoughts and do all you can to make them go away?
Do you fear being away from or losing a loved one?
Do you have fears you know are irrational but still can't shake?
Do these worries interfere with your daily life?

Anxiety dictates our lives, leading us to avoid discomfort at any cost. Despite being a natural part of the human experience, we often resist acknowledging and accepting it.

You might be thinking, "Okay, so how do I get rid of my anxiety?"

We don't. We acknowledge it, embrace it, and look it straight in the face. We can't eliminate anxiety entirely, but we can minimize its impact on our well-being.

Instead ask, "How do I peacefully cohabit with my anxiety?"

Here's a good start:
Observe your thoughts as an impartial observer, without judgement.
Pay attention to every feeling you feel, let the wave of emotions wash over you.
Accept uncertainty and let go of trying to answer the unanswerable questions.
After taking some time to listen to your mind and body, align yourself with your values so you can act with more clarity.
When we learn how our minds work, we can learn to react differently to our anxiety-producing thoughts. We can start filling our lives with things that bring us the most joy instead of things that bring us the least anxiety.

We can start to live in the present moment.
Close
In therapy?

We all know that — regardless of how long we've been in therapy — when stuck in a spiral of anxiety, and in search of a way out, our minds tend to go blank.

These bracelets are designed to support and reinforce the principles you've learned in therapy, empowering you to put them into practice, not only in session, but in those moments when your anxiety sneaks up on you.

With each glance at your wrist, you'll find the support and encouragement you need to push past your comfort zone and return to the present moment.

Break free from the grip of anxiety and cultivate the self-compassion that you need to further your journey.
Unlike mantra bracelets,
we're not here to simply inspire.
As two sisters with OCD & anxiety, we've learned that managing anxiety requires more than just positive, inspirational affirmations. It requires facing your anxiety head-on.

That's why we've created a new kind of mantra bracelet.
Presently bracelets are engraved with reminders inspired by cognitive-behavioral therapy.

It's time to get out of your head and get back to the present moment.
Presently Gift Cards
Gifted with meaning, effortlessly chosen.
Gift your anxious loved ones the courage to face anxiety and the option to choose a bracelet for themselves.
Regular price
From $25.00 USD
Regular price
Sale price
From $25.00 USD
1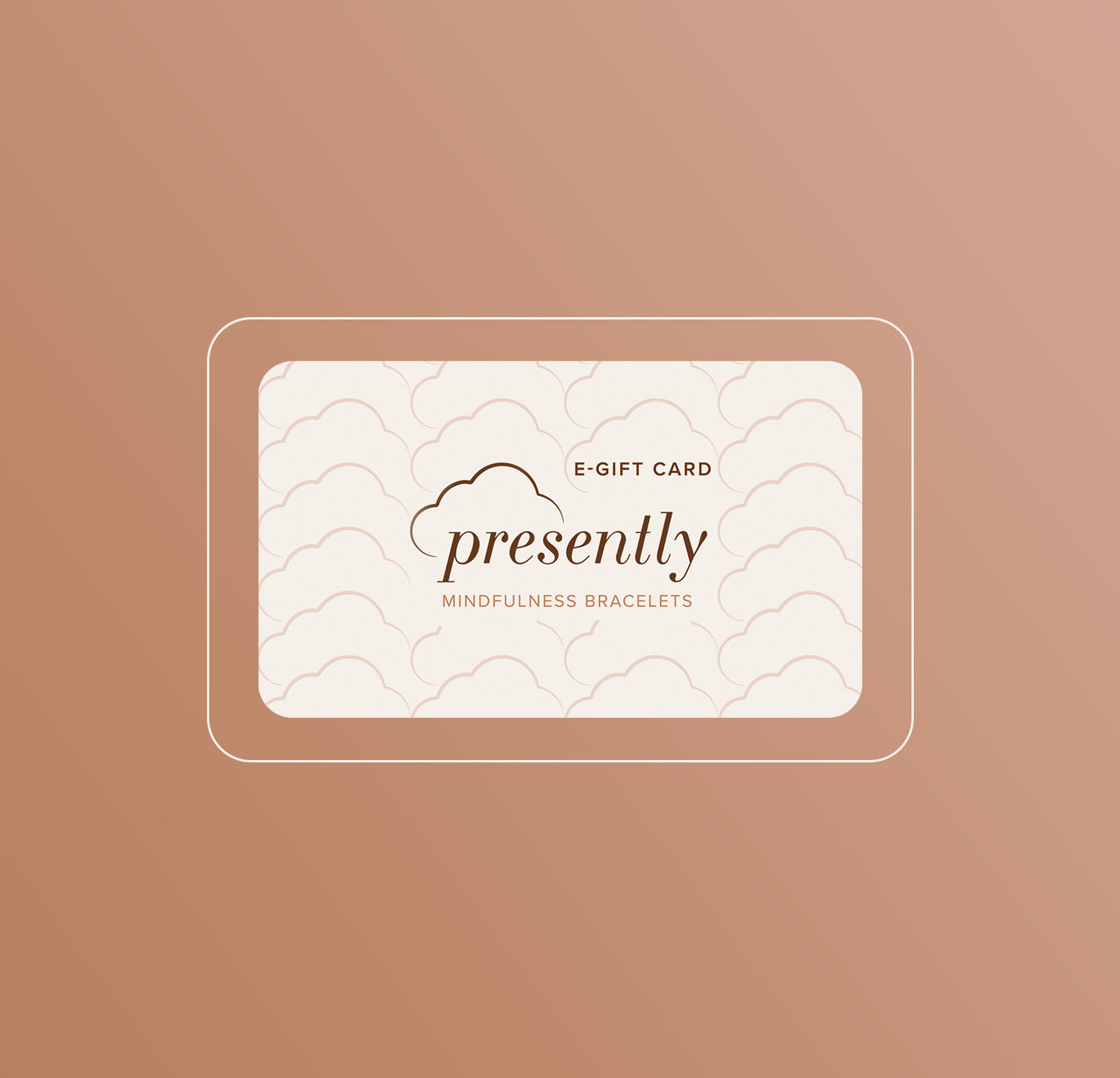 Regular price
From $25.00 USD
Regular price
Sale price
From $25.00 USD
2
We donate 5% of every bracelet purchased
to these mental health nonprofits:
Therapist-Approved
Why Mental Health Professionals Love Presently
As a therapist and someone who loves her presently bracelet, I cherish having one of my favorite reminders on my wrist at all times. "Brave the uncomfortable" is something I hope to drive home not only for my clients but for myself too.

— Liana Ross | Trauma & EMDR Therapist
I love them because they're not toxic positivity / generic stuff you could get a dime a dozen... they're all consistent with ERP/CBT lingo.

— Jenna Overbaugh | LPC, OCD & Anxiety Therapist
This isn't a sponsored situation. I'm not earning commission. I just wanted to share about small business that's making beautiful things that are encouraging and supporting mental health.

— Lacy Warne | LMFT, Anxiety Therapist & Coach
When I'm looking for items I can use as apart of my lifestyle as a therapist and person who faces anxiety - I'm constantly looking for what aligns with my values & the self work me and clients do. Presently created such a piece - it's a reminder to me that I can come back to myself and what matters most.

— Carly Samach | LMHC
I'm a big supporter of Presently and the ethos of the brand. I love how they pair simple yet elegant designs with inspiring mental health-related messages.

— Gianna LaLota | LMHC
Customer-Approved
Our bracelets have helped many people struggling with anxiety.
Love!!

I love my bracelet so much! I've gotten many friends to purchase a bracelet as well, a beautiful little piece to look at- that reminds me of my FIGHT and journey to get to where I am today with OCD!

— Torrie P.
Wonderful!

This bracelet reminds me to "breathe" when my anxiety is triggered. It is so comfortable to wear every day.

— Antoinette
Love these!

This is my second purchase from Presently. I plan on gifting it to a friend going through a tough time. The message is beautiful and I love how the piece looks. Will be back for my third purchase soon enough.

— Jessica E.
A nice reminder

As someone who suffers with mental health issues, I wear this reminder daily. It helps me to stay in the moment, breathe and relax. I also bought it in honor of a loved one I recently lost to suicide, which has changed me to do more and be more involved with mental health awareness and advocacy.

— Angela
New favorite bracelet

This is a high quality, beautiful bracelet that also came with a small card that explains the phrase I chose and a handwritten note from the founders of Presently, which was such a nice surprise! As someone with OCD, I'm so happy to have found such a unique item that represents hope and healing from OCD and anxiety.

— Bryan
Beautiful & meaningful bracelet

The bracelet is beautiful, the Amazonite beads complement the gold perfectly! I love that the bracelet is adjustable- I have trouble finding bracelets that are small enough. I love the meaning behind these bracelets and will definitely be buying them as gifts!

— Maria
Love my new bracelet

Well my bracelet (I bought two actually) got here safe and sound to Costa Rica. Not only I love the quality but the chance to read and remember these carefully selected phrases. I would buy again, thanks Emily & Lindsay

— Daniel
Beautiful!

This bracelet is SO beautifully made! Love how unique the dalmatian gemstones look, and how delicate and discreet the engraving is. Honestly, I underestimated the impact that wearing a mindfulness message would have on my day to day life. So happy I got this.

— Michele M.